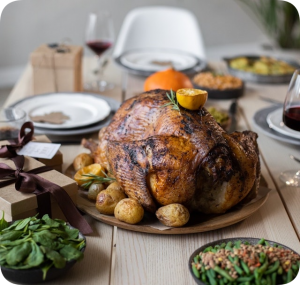 While shoppers managed to buy most of their treats this Halloween despite the current supply chain crisis, unfortunately the upcoming Thanksgiving holiday will be a bit trickier. Like many other consumer products, nearly every component of the traditional Turkey Day dinner will be more expensive than ever before. For example, an executive chef in Arkansas said that he paid over 20 percent more for 25 pasture-raised turkeys than he did in 2020. And according to Norman Brown, director of sweet potato sales for Wada Farms in North Carolina, truckers are earning more than twice their normal wages to haul the crop around the country. 
"I never seen anything like it, and I've been running sweet potatoes for 38 or 39 years," said Brown. "I don't know what the answer is, but in the end it's all going to get passed on to the consumer." Along with sweet potatoes, other Thanksgiving necessities that are increasing in price include packaged dinner rolls, cranberry sauce, pie crusts, corn, and even aluminum roasting pans. Of course, the most expensive item of 2021 will be turkey, with the big birds already selling for 25 cents a pound more than a year ago. Retailers and experts also predict that high income consumers will opt for premium turkeys that are organically raised and processed while low income consumers will look to stretch their budgets with bargains. 
"I can buy that this will be the most expensive Thanksgiving ever, but there's an income-inequality story here that matters a lot," said agricultural economist Trey Malone. "The rich are going to be spending more on Thanksgiving than they have ever spent before, but not everyone is going to be able to do that." Many of these price spikes are the result of supply chain snafus like skyrocketing steel prices and shipping delays in ports around the world. With wine from California's Napa Valley, for instance, labor shortages as well as a lack of glass bottles from China have led to price increases of 25 percent. 
Questions:
Why is this year's Thanksgiving expected to be the most expensive ever for many Americans?
Do you think consumers will respond to higher prices on Thanksgiving by purchasing fewer items? Why or why not? 
Source: Kim Severson, "This Year's Thanksgiving Feast Will Wallop the Wallet," The New York Times, October 25, 2021.