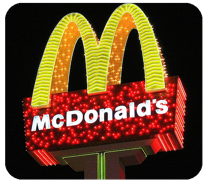 For decades it seemed like nothing could stop McDonald's march towards total fast food domination. By the time 2011 rolled around, the company was boasting eight consecutive years of same-store sales growth while also holding the title of top performing stock on the Dow for five years running. But just when everything seemed to be going right for the chain, the golden arches started to lose their shimmer. Changing consumer tastes and a rocky transition between CEOs are leading towards McDonald's first year of negative growth since 2002. Experts are starting to wonder if the company will ever be able to get back to its glory days.
Many of the problems at Mickey D's can be explained in a nutshell by their failed Mighty Wings promotion. The company had seen so much success selling deep-fried chicken wings in its Hong Kong market that executives decided to expand the idea to American outlets. But while the wings' cayenne-and-chili-pepper breading and enormous size were a big hit in an Atlanta test run, the idea didn't play as well with consumers when expanded to more than 14,000 U.S. locations. McDonald's was left sitting on 10 million pounds of unsold wings, amounting to 20 percent of its inventory, by the time the eight-week promotion ended.
Mighty Wings failed because the promotion didn't fit with customers' perceptions of the McDonald's brand. Priced at $1 per wing, the item could appear expensive to someone used to seeing cheaper options on a McDonald's menu. However, the wing's hefty size actually meant that consumers were getting a good deal, but they couldn't see that past the sticker shock. Experts explain failures like these as just another part of wider menu problems at the chain. The average McDonald's menu now features up to 121 items, a 75 percent increase from 2004. CEO Don Thompson has been a big supporter of expanded menu items and even championed Mighty Wings, but people both within and outside the company feel that McDonald's menu is overextending. With premium competitors like Five Guys and Shake Shack growing quickly, many believe McDonald's would be better off if it went back to basics by focusing on selling burgers and fries.
Questions:
Does McDonald's need to return to its base of burgers and fries?
What could the company do to reduce menu items but expand product offerings?
Source: Beth Kowitt, "Fallen Arches: Can McDonald's Get Its Mojo Back?" Fortune, November 12, 2014. Photo by: Rupert Ganzer.