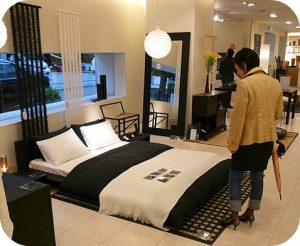 When someone is looking to buy a new piece of furniture, it can be a struggle to find the right item to fit their personal taste as well as their floor plan. After all, just because something looks good in the showroom doesn't necessarily mean it will fit in their living room. That's why a number of home goods companies are integrating augmented reality into their online stores. Using a smartphone camera, the technology allows customers to visualize how a piece of furniture would look in their home.
With the IKEA Place app, for instance, prospective buyers can point their phone at an empty office floor to see which desk would look best in that spot. Along with the Swedish home goods giant, other firms like Williams-Sonoma (parent to West Elm and Pottery Barn) are also developing augmented reality tools for their online platforms. In fact, the company recently purchased a 3D-imaging software startup for $112 million. "We see augmented reality as a transformative tool in improving the customer experience because it's going to be able to help people better visualize," said Williams-Sonoma CEO Laura Alber.
Meanwhile, accessories companies like Michael Kors and Warby Parker use augmented reality to show customers how a pair of glasses will look on their face. This technology can also extend to Facebook advertisements. For example, if a person notices a Michael Kors item they like in their News Feed, clicking on it will take them to a site that activates their smartphone camera and visualizes the product on them. "Think about traditional marketing and how powerful sampling is," said Karin Tracy, head of fashion and retail sales at Facebook. "Now we have this virtual sampling happening in the palm of your hand." Still, even the most optimistic boosters of augmented reality admit that the technology remains in its early stages. While it could eventually become essential to the purchasing process, right now many experts see it as just a supplement to other online research.
Questions:
How can augmented reality technology help consumers with major purchasing decisions?
Do you think augmented reality will eventually become an essential part of online retail? Why or why not?
Source: Martha C. White, "Before You Buy That Couch, an App Will Put It in Your Living Room," The New York Times, September 16, 2018. Photo by w00kie.