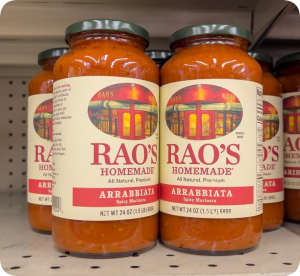 When Charles Rao first opened a New York City tavern in 1896, there's no way he could have known his small business would eventually grow into a multi-billion dollar brand. After his family converted the bar into an Italian restaurant, however, Rao's fame steadily grew throughout the 20th century. In fact, the eatery got so busy during the 1970s that longtime regulars were awarded "table rights" that turned into treasured family heirlooms. For everybody else, though, it became nearly impossible to book a table at Rao's. 
Tired of telling customers "no" when they inquired about reservations, fourth-generation owner Frank Pellegrino Jr. started selling jars of the restaurant's famous pasta sauce in 1992. "This way I don't have to say 'no' anymore and everybody can have it at home," said Pellegrino. The plan worked, and over the years Rao's pasta sauce began appearing on grocery store shelves across the country. After well over a century of prosperity, Rao's reached new heights of success this week after its parent company Sovos Brands was sold to Campbell Soup for $2.7 billion. Although Sovos also holds products like Michael Angelo's frozen foods and Noosa yogurt in its portfolio, Rao's is by far the standout performer, with its line of pasta sauces accounting for 69 percent of the company's $837 million in net sales last year. 
According to Campbell's President and CEO Mark Clouse, the company's growing snack division along with the Sovos portfolio "makes Campbell one of the most dependable, growth-oriented names in food." Still, news of the sale caused some grief among consumers who worried online about ways that the conglomerate could potentially change Rao's recipe. "We're not touching it! Anyone who thinks we're going to touch the sauce, no," said Clouse on CNBC, reassuring customers that his team has no plans to mess with success. Of course, as we saw last week with the legal debacle surrounding MrBeast Burger, offering high quality food on a wide scale is no easy feat, and longtime customers will be watching Rao's closely to ensure Campbell stays true to its word. (Update on our MrBeast post from last week: Virtual Dining Concepts countersued Jimmy Donaldson for $100 million, accusing him of causing "enormous financial harm" with his actions.)
Questions:
Why did Campbell Soup spend $2.7 billion to acquire Rao's pasta sauce and other products owned by Sovos Brands? 
Do you think Campbell will be able to maintain the level of quality that Rao's customers have come to expect? Why or why not?
Source: "Campbell is Buying Rao's. Fans Are Worried, but the Soup Maker Says It Won't Touch the Sauce," Associated Press, August 8, 2023.