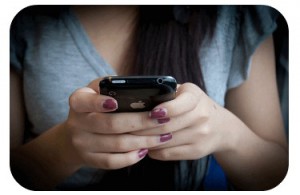 As the fast-paced world of social media continues to dominate culture, many have worried that traditional forms of media won't be able to compete. After all, why pick up a book when you can just read text messages and tweets? Although dedicated readers might find that question shocking, it's precisely what thousands of people are doing with Hooked, a new app that sends out stories to users in bursts of texts.
Currently the top grossing book app in the iOS store, Hooked has been downloaded 1.8 million times since launching a year ago. It's targeted towards readers aged 13 to 24 in an effort to "hook" them on stories that they can't stop clicking through. The most popular tales tend to be thrillers and horror stories that play out as a series of dialogue between texting characters. As a "freemium app," Hooked is free to download but users can only read a certain amount of texts before the app pauses for half an hour. Of course, purchasing the app removes this block and allows for unlimited reading.
Hooked's creators Prerna Gupta and Parag Chordia say that they aim to "redefine fiction for the Snapchat generation." While not writers, the pair developed the app by taking the opening 1,000 words from 50 best selling young adult novels and having 15,000 people read them on a test site. The most-read stories had a 35 percent completion rate, which Gupta and Chordia thought was too low. Then they submitted a text-conversation narrative to their focus group: 85 percent of readers finished the story. While these simplified tales can be interesting and addicting, even Hooked's creators admit that they don't have much room for scene-setting or character development. The two hope to add larger portions of narrative in future updates while continuing to stick with the short-burst format that has made Hooked a success so far.
Questions:
In the future, will story apps like Hooked provide genuine competition to book publishers?
Why are younger readers drawn to Hooked's format of text message-based stories?
Source: Thu-Huong Ha, "American Teens Are Getting Hooked on Fiction by Text Message," Quartz, December 1, 2016. Photo by Jhaymesisviphotography.