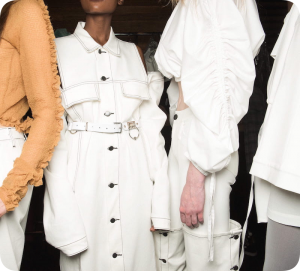 For decades, clothing designers, magazine editors, and photographers at publications like Vogue decided what the fashion world would see and how they would see it. Although models received plenty of opportunities to pose in front of the cameras, they got almost no say in the decisions that were made behind the scenes. That started to change as social media platforms like Instagram gave models direct access to audiences, granting them more individual power over the creative direction of their brands. 
And now that the pandemic has closed photo studios and magazine offices across the country, some models are taking over the content creation process. For instance, at the beginning of the pandemic Julia Haart of the fashion talent agency Elite World Group reached out to brands like Zara and Urban Outfitters to send clothes directly to models. Over Zoom, she instructed the models on how to put their personalities on display when taking their own photos. "Think of the traditional model world, who ran the world: It was photographers, videographers, it was the editors of magazines," said Haart. "Now, with social media, with the digital space, it's the talent who goes directly to the people. It has democratized fashion."
Model Héloïse Guérin recently took part in one of Elite World Group's off-site fashion shoots and was surprised that she received so much control over her own styling. "Even though we had a lot of Zoom meetings with the clients, they still left us plenty of room for creativity and freedom which we really appreciated," said Guérin. "It was so much more fun than being 'just a model,' and felt very rewarding." While magazines once provided fashion designers with access to a wide audience, many of today's models can have thousands or even millions of followers on Instagram. With models now putting their own input into photo shoots, they could become even more powerful than old elites who once controlled the fashion world. Still, not every model can stage at-home photo shoots like Guérin, who is married to a fashion photographer. 
Questions:
Who are the traditional leaders of the fashion industry? How are today's models using social media to challenge these old power structures?
What are the advantages and disadvantages of granting more power to models in photoshoots during the pandemic?
Source: Ragan Clark, "Pandemic Accelerates Power Shift in Fashion, Advertising," Associated Press, August 18, 2020.