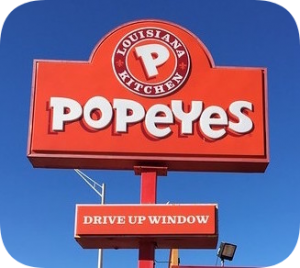 On August 12, Popeyes announced that it was adding a new chicken sandwich to menus across the nation. The first of its kind at the fast food chain, Popeyes said this was its biggest product launch in more than 30 years. The sandwich soon became a hot topic on social media and grabbed the attention of more than just hungry customers. In the days following the launch, Chick-fil-A started a social media feud with Popeyes over which chain had the best chicken sandwich. The conflict quickly went viral, leading to enormous lines and sandwich shortages at Popeyes.
Then on Tuesday the company announced that it would temporarily stop selling the sandwich since supplies had run out. "Popeyes aggressively forecasted demand through the end of September and has already sold through that inventory," said the company in a statement. "As a result, Popeyes restaurants across the country are expected to sell out of the Chicken Sandwich by the end of this week." The company went on to say that the item will return later this year as a permanent addition to its menu. 
Although this is bad news for sandwich-craving customers, it's a potentially welcome development for Popeyes employees across the country. One staffer said they prepared more than 600 sandwiches over the course of an 11-hour shift that featured few breaks. "Everyone wanted to quit so bad because it was that bad," said another Popeyes' employee. "We have never seen it get this insanely busy." Along with all the social media posts in praise of the sandwich, other users shared photos and videos of angry customers or exhausted employees. This led to widespread discussions about potentially increasing compensation for fast food workers, especially during busy periods like the one Popeyes just had. "Popeyes restaurants experienced unprecedented volumes over the last couple of weeks," said company representatives in response. "All restaurant employees have worked very hard. We are very grateful for all that they do for Popeyes guests."
Questions:
What are the advantages and disadvantages of social media marketing as illustrated by Popeyes' recent time in the spotlight? 
Do you think fast food workers should be paid more during busy periods like the one that Popeyes just experienced? Why or why not?
Sources: Shoshy Ciment and Kate Taylor, "Popeyes Workers on What It's Like to Work in Chicken Sandwich Chaos," Business Insider, August 27, 2019; Greg Morabito, "Popeyes, Ever the Tease, Temporarily Removes Crispy Chicken Sandwich From Menu," Eater, August 27, 2019. Photo by Phillip Pessar.