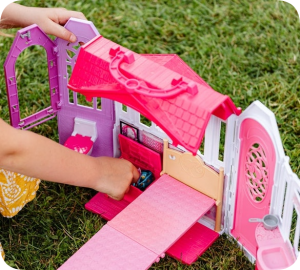 For 34 years, USA Today has tracked consumer appreciation of Super Bowl commercials in its annual Ad Meter poll. This year's top spot went to a light-hearted ad featuring Anna Kendrick picking out Barbie's dream house for Rocket Mortgage, which also won last year with a funny celebrity cameo commercial. Amazon similarly scored big with a self-deprecating spot featuring Scarlett Johnansen and Colin Jost while Doritos landed in the top five thanks to a song from Megan Thee Stallion and some dancing animals.
Still, Rocket Mortgage managed to stand out from the pack thanks to a savvy combo of branding synergy and social media clout. In the week leading up to the big game, Kendrick tweeted out a clip inspired by the spot to her 7 million followers that also encouraged them to vote in the Ad Meter poll as well. Perhaps most importantly, though, Rocket Mortgage did not unveil the entire ad until the Super Bowl. 75 percent of brands who advertised during the big game chose not to follow this strategy and showed their ads before Sunday, potentially taking away the impact of a surprising moment during the broadcast.
Other ads that did not connect with consumers included a number of spots from cryptocurrency companies making their Super Bowl debuts. Coinbase ended up dead last in the AdMeter poll with a minute-long spot that included only a QR code bouncing around the screen. Seinfeld creator and Curb Your Enthusiasm star Larry David also failed to connect with audiences in his crypto ad. These low-ratings from consumers remained consistent with reviews from culture writers, with The Washington Post remarking that "this was a rather disappointing year for those who pay more attention to Super Bowl commercial breaks than to the game itself." (In that case, at least the game was exciting!)
Questions:
Do you think companies potentially undermine the impact of their Super Bowl ads by showing them before the big game? Why or why not?
What are the advantages and disadvantages of using celebrity cameos in Super Bowl advertisements? 
Sources: Maura Judkis and Sonia Rao, "The 5 Worst Super Bowl Commercials, From Larry David's Crypto Pitch to Dolly Parton and Miley Cyrus's 5G Anthem," The Washington Post, February 14, 2022; Gabe Lacques, "Anna Kendrick Leads Rocket Mortgage to Another Super Bowl Victory in USA Today's Ad Meter," USA Today, February 14, 2022.