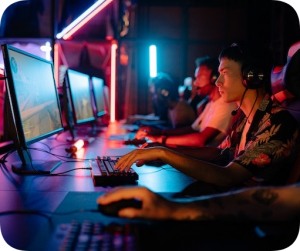 This week, the esports talent agency GameSquare announced that it hired Tyler "Ninja" Blevins as its Chief Innovation Officer. A famous Fortnite streamer with more than 17 million followers on the platform Twitch, the company said Ninja will "curate disruptive strategies, pursue new business opportunities, and explore next-gen technologies to accelerate the [e-sports] industry's growth within pop culture." This will also give Ninja another source of revenue besides streaming, which he claims to earn $500,000 a month from while keeping to a rigorous schedule. "The reality is that he's a media asset in his own right," said GameSquare CEO Justin Kenna. "So how do we create opportunities for him to monetize into the future outside of just streaming?"
According to gaming industry experts, that question doesn't just apply to Ninja but also to esports as a whole. Despite selling out stadiums for tournaments and gathering audiences of millions online, most esports companies have yet to see returns on their investments. Unlike other professional leagues like the NFL or NBA, video game companies have not brokered big money broadcast deals with major television networks. Part of this stems from esports' need for global appeal: if a brand signs an exclusive broadcasting deal with Twitch or YouTube, it won't be able to show any content in China, where those platforms are banned. What's more, many companies are simply happy to see their games gain millions of views online from potential customers, making esports monetization less of a priority. 
"It creates value elsewhere in their ecosystem," said Felix LaHaye, CEO of the gaming marketing agency United Esports. "It's worth it to have a loss leader in terms of a product that creates the brand, and then you end up selling normal products to people." An overabundance of games and decentralized leagues also makes it difficult to monetize esports as new titles and tournaments constantly change the industry landscape. Still, other analysts point to the ever-growing viewership numbers for esports as a sign for hope: Americans watched 217 million hours of esports content in 2022, up from 147 million hours in 2018. So while esports might not be on the same level as other professional leagues currently, industry optimists feel like there is still plenty of time to expand. "We often say that we're still in the leather helmet days of the NFL," said Naz Aletaha, global head of League of Legends esports at Riot Games. 
Questions:
Why is it difficult for esports companies to make money compared to other professional sports leagues? 
Do you think esports will eventually become as popular and profitable as professional leagues like the NFL or NBA? Why or why not?
Sources: Kellen Browning, "The Excitement Around E-Sports Is Growing. But Where Are the Profits?" The New York Times, November 26, 2022; Jennifer Maas, "Tyler 'Ninja' Blevins Named Chief Innovation Officer at GameSquare," Variety, February 22, 2023.