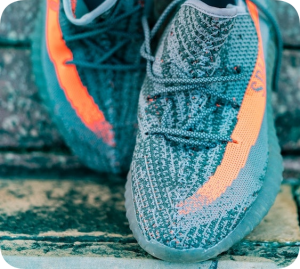 A few weeks ago, we looked at the sprawling global sneaker industry and how companies like Adidas earn billions annually thanks in large part to their unique brand partnerships. The German sneaker giant's most profitable celebrity connection over the years has been with Kanye West (now known as Ye), with whom Adidas has collaborated on the Yeezy line of shoes and clothing for nearly a decade. This partnership has been hugely profitable: one data research firm estimates that Yeezy is worth 1.5 billion to 2 billion euros. Still, Ye's erratic behavior has long been a problem for the company, one which became impossible to avoid after Ye recently "made a series of antisemitic remarks and embraced a slogan associated with white supremacists."
His actions provoked widespread condemnation on social media, causing Instagram and Twitter to suspend Ye's accounts. Meanwhile, the fashion house Balenciaga deleted any trace of the musician from its website and social media accounts while the prominent talent agency CAA dropped him as a client. Although Adidas was the first major firm to say that it was "reviewing" its relationship with Ye, the company did not make the split official until yesterday when it announced it had totally cut ties with him. "Adidas does not tolerate antisemitism and any other sort of hate speech," the company said in a statement. "Ye's recent comments and actions have been unacceptable, hateful and dangerous, and they violate the company's values of diversity and inclusion, mutual respect and fairness."
Adidas said that it would likely lose $246 million this year as a result of its decision, a figure that makes sense given that Yeezy accounted for more than 10 percent of the $2 billion in profit the company made in 2021. Of course, the real loser in this situation is Ye, who experts estimate earned $100 million per year from his partnership with Adidas. According to Forbes, the Yeezy deal accounted for $1.5 billion of his net worth, which has now dropped from billionaire status down to $400 million. Bloomberg further estimates that Ye earned more than $500 million from royalty payments and marketing fees during the first four years of the Adidas deal. While Ye still owns the trademark for Yeezy, Adidas said that it was the "sole owner" of all design rights to products that were made during the partnership. 
Questions:
What are the potential benefits and drawbacks of brand partnerships with celebrities? How does the Adidas-Yeezy deal demonstrate these potential benefits and risks?
Do you think Adidas should continue to depend on celebrity brand partnerships? Why or why not?
Source: Melissa Eddy, Vanessa Friedman and Michael J. de la Merced, "Adidas Ends Partnership With Kanye West at a Considerable Cost," The New York Times, October 25, 2022.